Jun 2, 2016
325
1,578
1,800
RSI Handle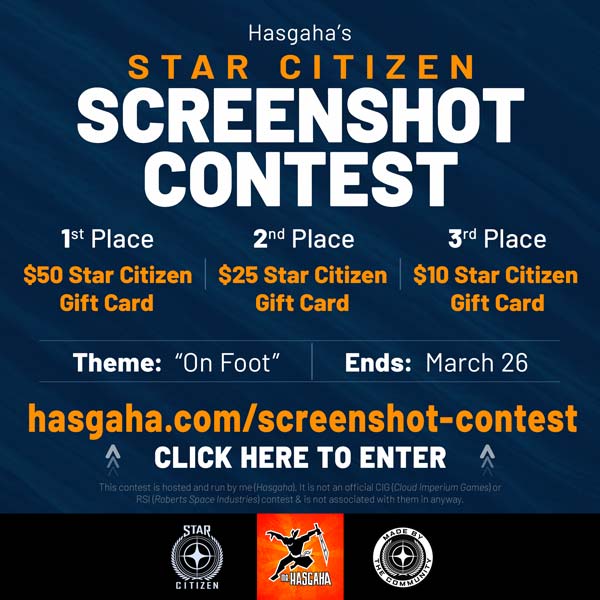 ALL THE RULES, DETAILS & ENTRIES HERE:
https://hasgaha.com/screenshot-contest
Hi all,
My last Star Citizen screenshot contest ended in January with 267 entries… a massive increase in submissions. It took longer to judge them all so I decided to skip a contest for February. And, moving forward, I think an every-other-month contest schedule is more manageable for me… so, March, May, July, etc. This month's contest will work the exact same way… except with new prizes, a new theme ("On Foot"), and new guest judges (DamnShame and GameVogue). So, check out the prizes, read through the rules, fawn over our guest judges and submit your winning shots!
EVERYONE is welcome to enter.
THEME: "On Foot"
PRIZES:
FIRST PLACE:


$50 Star Citizen Gift Card




SECOND PLACE:


$25 Star Citizen Gift Card




THIRD PLACE:


$10 Star Citizen Gift Card
CONTEST ENDS:
March 26, 2021 at 11:59 PM CST
Make sure you check the
contest page
for ALL the rules and details.