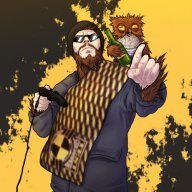 Jan 1, 2016
3,845
15,745
1,050
RSI Handle
So I recently went searching for Bar Citizen's near me, and found out that there is a discord channel for setting up Bar Citizen's in my region... (Alberta, Canada).
At the moment it's mostly people from Calgary, but they're looking for Edmontonians as well.
I only know of one other... and
@Blind Owl
moved!
https://discord.gg/RRQBZB6
I actually know of another, but not sure how active they are since I've been gone a year.