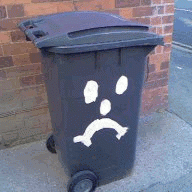 Jan 5, 2016
5,552
21,985
1,525
RSI Handle
Hi, witnessing the following made my face do this, so if you are at work or not up for your face doing this, stop reading now:

So....

Mrs. 'BobFace is in the family way busy making us a baby/new co-pilot for TEST, and was feeling a bit poopy. She mentions she wants to bring the dry washing in from the line and hang the wet washing back out. I offer to do it because feeling bad is bad, and pop a sunhat and shades on because the sun is relentless today and going outside without some form of environmental armor is to be discouraged at every possible opportunity.

I bring the dry washing in with no issues, fill the basket from the washing machine. A few bits and pieces go onto the line, I spend far too long trying to work out how to hang a dress on it as the thing seemed to defy the laws of physics in its ability to turn inside-out by just turning it upside down, and suddenly out of the corner of my eye I register movement.

My eyes dart sideways to the second story window of one of the houses that overlook the garden. It's a bathroom window.

A guy is inside, with one foot on the inside windowsill that has assorted bathroom bottles and what I assume is a mirror on it, in nothing but a pair of underwear. He is stood on the sill to get enough height to jam his head into the little gap you get when you open little window at the top of a bathroom window - his eyes are the only part that are clearly visible as the window glass is thankfully frosted, but it's obvious from the pumping motion at groin level: he's pleasuring himself.

He's not looking into my garden which his house overlooks from the left, but off down the side of the houses into one of the neighbors gardens. I can't see whats down there but my guess is someone sunbathing.

I have no idea what to do... so continue hanging out the washing... shortly before the last garment goes on the line, it occurs to me to cough loudly to make him aware there's more than just him in the world. I look round from affixing the last peg and he's backed off from the window, but through the frosted glass he's not backed off far enough to obscure his pink form - he's still there, clearly pumping away, this time his head tilted in such a way to suggest he was looking into what I had assumed was the mirror.

I walk into the house, take off the sunhat, and remove my shades in a "Mother Of God" meme way and can only say:

"I just saw a guy tossing it off."

Mrs. 'BobFace pauses for a moment then replies "What?"

I'm almost lost for words.

"There's a guy in the bathroom window of one of the overlooking houses... tossing."

I explain the original stance, the cough and his slight but not total retreat.

She gets up from the chair and comes to the back door and sees.

"I bet one of the neighbors is topless sunbathing" she says aghast.

We dart upstairs to the only window we have that overlooks the gardens he had been staring at down the side of our house. There was a lady neighbor sat in the sun dressed in a baiting suit, reading a book.

"What a pervert." Says Mrs. 'BobFace.

"Dirty bastard." I agree.

"I'm calling him out on Facebook!" She cries with glee.

"Er... what? Perhaps not...?" I can only imagine the ways this could blow up in the local community if it went on Facebook "Plus you'd need evidence and we don't have a video of it."

"Recording that is almost as pervy as doing it" she agrees.

We run back down stairs, I sneak a peek out the back door and his figure through the frosted glass has finally, thankfully, stopped grinding his groin... but now appears to be dabbing at what I thought was a mirror before finally vanishing...

"This," I said to Mrs. 'BobFace "Is the reason why I don't, generally, hang the washing out."

I then had to spend the next five minutes talking Mrs. 'Bobface out of sharing it with the world as at this point she was riling to go round and knock on his door... Then I came to TEST and shared it here instead.
Apart from logging it as evidence for the day the guy does something truly creepy, what are you supposed to do when you see something like this?
EDIT - If this is too gross for TEST, please remove with my blessing.
Last edited: