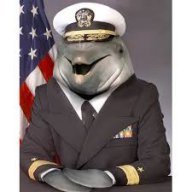 Oct 14, 2015
1,261
4,592
2,150
RSI Handle
If you are considering less lethal, you might want to look at bean bag ammo. I was just looking at rock salt ammo and in the same breath, the guy said don't use it on targets closer than 20 YARDS, or farther away than 50 yards, "making it ideal for home defense". At home defense ranges(mine would probably be less than 5 yards), rock salt can blind or kill. So can bean bag and rubber bullets, but you have to basically aim for the head. But hey, we're talking LESS lethal, right?

I got my H&K USP in .40 cal strictly for home defense because it is far too heavy and bulky for concealed carry(some German cops use it as a duty gun in 9mm). The mass of the thing absorbs recoil though, which makes it smooth and accurate. I used to carry a Glock 27 in .40 cal, but the recoil with hot defense rounds made it uncomfortable to shoot. So, like the FBI, I switched back to 9mm.

The trick is to choose the right ammo. I use Speer gold dot hollow points in a H&K P30SK, which allows me to carry more ammo than the Glock, and is much more accurate and comfortable to shoot.