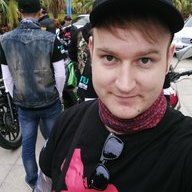 Badges
1

Gender:

Male

Birthday:

May 7, 1986

(Age: 30)

Home Page:

Location:

Occupation:

University English teacher
Rekishi
Lieutenant, Male, 30, from Hainan, China (from Sweden)
Rekishi was last seen:

Mar 20, 2017 at 10:34 AM
Loading...

Loading...

About

Gender:

Male

Birthday:

May 7, 1986 (Age: 30)

Home Page:

Location:

Occupation:

University English teacher

Personal Hangar:

RSI Constellation
MISC Freelancer
Anvil Hornet
Drake Cutlass

Timezone Avalibility:

Asian/Australian
European

RSI Handle:

Steam Username:

lord_patrik

Reddit Username:

PFallqvist

Greetings from a sweaty island in Southern China!

I'm a Swede, name is Patrik but you can call me Rekishi (Japanese, means history). I've been living in China for the last three years working as an English teacher in Chinese universities.

Last summer I went on an Epic journey from my old job in Northern China to my new one in the Southern most island province of Hainan. 4000 km and 30 days on my little 125cc Suzuki Custom.
Check it out: http://facebook.com/EpicJourneyChina Roleplay to follow:

Greetings,

I was sitting the other day on the bridge of my Freelancer, staring out into the vastness of space, pondering if I should dust or not. I did not.

Suddenly pirates were upon me, I had forgotten to turn off the shields, lucky I guess, and the asteroid I had choosen to land on wasn't thick enough to block out my emissions. Luckily I had hired some security to drive my Hornet Ghost, she was lying in wait on the other side of the asteroid for just this kind of occasion.

I should have paid a little bit extra for a higher quality pilot though, she was drunk as always. My hornet Ghost got obliterated in seconds and I only got away since I had forgotten to turn off the shields. Lucky star!

Now, with the money from the insurance for the Ghost I decided to upgrade to a little beefier figher, so I bought myself a Constellation Aquila. It was time to upgrade my crew as well, so I searched out the famous TEST squadron - Best squadron and offered my services in exchange for some quality crew.

Instead of one drunk security officer, I now have eight drunk aurora pilots that think they can manage to my shiny, new Constellation. One of them said something about being an officer in the US army, thought that didn't exist anymore. Oh well...

Interact

Loading...

Loading...