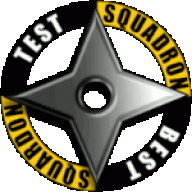 Captain
Staff member
Officer
Aug 10, 2020
84
233
200
RSI Handle

The nefarious Furious Diamonds group has captured an allied carrack from Holston Inc.

Holston has reached out for assistance recovering the carrack and its cargo. Currently, its engines require repair, and it is stuck in the atmosphere, so it should be an easy target.

We need to take back the Carrack and return it to Holton Inc. We don't want to damage the carrack anymore than it already has been, so be careful; when boarding the carrack.

COMMANDING OFFICER:

@Chromeninja

Start Location

:

PU -> Stanton System -> MicroTech -> Port Tressler

Start time:

19:45 UTC - 3:45pm EST

COMS

:

TEST Discord -> Voice Chat -> CFT - Briefing

Personal Equipment Required:
Test Armor: full yellow set / full black set

Inquisitor armor can be found at Grim Hex.

No weapon restrictions
Lots of medpens
Goals:
Board the stolen Carrack
Eliminate or capture the enemies
Team coordination
Getting Started:
At 19:45, we will gather in TEST Discord -> CFT - Briefing
Makes sure you are at the required start location and in the main menu.
We will be launching at the start time. If you are late, you will need to join after.
Further instructions will be given during the briefing.
Guilded Post:
Click ME to sign up!
Last edited: