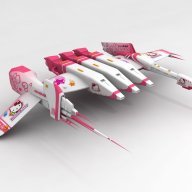 Nov 3, 2013
548
382
2,330
RSI Handle
Actually, people. I want to shoot people. Namely everyone chattering away about the Dogfighting Module announcement. Sadly, I've become one of them by making this post, so now I'm gonna have to shoot myself.

I think I'm not much of a speculation person. I just don't get why everyone needs to blabber away endlessly about their personal take on the DFM letter. I do realize it's partially because there's not much else to talk about in SC these days. But still...

IMO, this is the greatest reason for a DFM before the end of the year. Allow a toggle that says:

a) I want the DFM as soon as possible, state be damned!
b) I want the DFM to be released when CIG thinks it's ready.
c) I just want to shoot stuff.

And then add a comment in the loading screen:

"For your enjoyment, every person in your dogfighting instance is someone who voted the opposite of you in the previous poll. Shoot those silly ducks down!

Oh, and also people who just want to shoot stuff. Because shooty-mcshooters inherit space."

~*~

Query: are we allowed to swear in here, or is this a PG-13 forum?