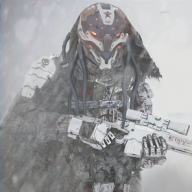 Sep 25, 2017
5,371
16,949
2,375
RSI Handle
Aha, you have got me thinking - Discussing polatics in the pub did used to be a thing which now is not as much, but the subject of discussion, polatics, has changed.

It used to be unifying, asperational, hope.

Modern polatics is more devisionary, tribal, fear.

To change the reaction to the subject, sometimes the subject must be changed... Is trolling then a gurilla reaction from a safe distance to this tribalism on any subject? You know they wont change their minds no matter how much evidence there is so is belligerence and ridicule all that is left in the age of the willful ignorant (on both sides).
I've always viewed true trolling as more just toying with the opponent much like a cat plays with a mouse before killing it, it's not needed beyond the enjoyment of the troll often times with the intended goal to get an overly emotional response.
With that in mind, I feel a lot of public discourse and debating on a subject is often unfairly labeled as trolling when in fact it's just normal debating. But it's not to say with the prevalence of social media that debates have taken on more of a verbal warfare mentality and are no longer about attempting to reason with dissident views or change minds, but utter memorized talking points without any understanding of the subject or attempt to see the other sides view. Often it's done with contempt and rationality that they are beneath reproach in the us vs them often leading to attacks on the individual instead of the topic. IE you are just a climate deniest who never went to college so you can't possibly know anything about anything, or you are just a libtard who only knows how to regurgitate what the professors shoved down your throat.
As for the debate on climate change, I think both sides are idiots as both sides have valid points which means the answer is somewhere between them. That the air quality in cities is terrible and we need to initiate more green technologies in the cities to clean up the air, but as to how it's impacting the global climate it's hard to tell given we have a very difficult time telling what the weather will be like with any degree of acracy tomorrow let alone months or years from now. I am also a huge fan of nuclear energy and think if we were not so scared of it it would be the best source of clean energy we can do at this moment in time and would significantly improve everyone's lives, well besides those that relied on coal mining and oil drilling. It also makes me wonder if high-speed trains over airplanes is a better form of rapid long-distance transportation. And while we can almost eliminate the need for coal (it will still be required in the processing of steel) we will still need oil for all the things batteries suck at due to the low energy density like long haul trucking, tractors, and rural transportation.
Instead, we get solutions like California offering the ability to buy green energy at a premium and saying they are reducing the amount of non green energy produced in the state. When the truth of the matter is they are using more energy and just offsetting the shortfall of energy production of energy by coal and natural gas to other states and thus looking like an increase in green energy contributing to the overall energy creation. As for the buying of green energy is not changing the amount of energy provided by green energy just you paying more for the same energy.