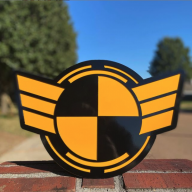 Mar 27, 2021
230
834
200
RSI Handle
This time rather than a decoration for my office, I needed something functional… a drink coaster!
Started in Inkscape getting the artwork right.

Then it was time to send the file to the Glowforge.
Amazon sent the wrong color paint, but I decided to just roll with it. Gold Leaf gives it an Origin vibe. Fancy!

Masking removed!


More pics to come when it's dry and cured.
Let me know your thoughts!