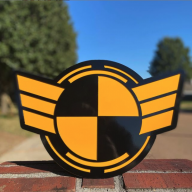 Mar 27, 2021
181
663
200
RSI Handle
***Batch #2 coming January 2022! ***
Items for sale:
I'm offering two sizes for the TEST logos. A small that is 9"x13.5" and a large that is 12"x18". They're each made of layered 1/16th inch mild steel. They will come fully powder coated and assembled, as shown in the pictures. They have built in hooks on the back for hanging. These items are made to order. The first batch(es) will be sold to US / Canada only.
Small - $60, plus shipping



Large - $100, plus shipping

Small on the left, Large on the right.

HOW TO BUY:
Reply in this thread, send me a PM or contact me on Discord with your PayPal e-mail address and which size that you would like.
I'll send an invoice for a non-refundable $10 deposit. This deposit not only pays for a portion of the logo, but also provides me with your address for shipping. I will send the final invoice (minus the deposit) when they're ready to ship.
TERMS & INVOICING:
- All items will be billed via PayPal in US Dollars (USD).
- You need to be PayPal verified.
- I will send a $10 non-refundable invoice as a small deposit for materials, and to get your verified physical address.
- The final invoice will be sent after shipping is calculated, and will need to be paid before the item is shipped.
- I ship via UPS, insured with tracking.
- In accordance with PayPal's policy, I am required to send goods to the buyer's PayPal physical address. Please ensure that it's correct when paying the invoice(s).
QUESTIONS?
If you have any questions please reply to this thread or send me a PM here on the forums, first. In the unlikely event that I do not reply to PM or here within a day, you can reach me at Doc Flanigan#7085 on Discord.
Last edited: