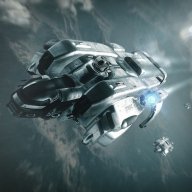 Dec 14, 2019
191
731
400
RSI Handle
I enjoy the mining mechanic in this game, and I've reached an age and a mindset where industry mechanics interest me more than pew pew, largely (probably means I'm slowing down!).
That said, and I know it's early days, nothing in this game seems to me to make money as fast nor as regularly as mining. And I've tried a bit of everything. The only possible exception might be sitting in a ship full of torpedoes taking out player bounties from distance. Mining regularly gets me 50-100k and I can Netflix (though not chill) at the same time.
Claim jumper missions give you 10K. Cargo hauling carries too much risk. Seems like other areas of the game ought to reward a little better?
Is mining your go to money generator? If not, what is? Can anything beat it? And yes, I know the game isn't finished yet
.