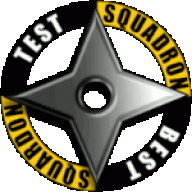 Aug 10, 2020
52
128
100
RSI Handle

This SUNDAY, we will be TESTing out the new TONK and pushing her to the limits!

Come and join!

COMMANDING OFFICER:

ChromeNinja

Start Location:

PTU -> Stanton System -> Hurston -> Everus Harbor

Start time:

19:45 UTC - 3:45pm EST

COMS:

TEST Discord -> TESTing



Personal Equipment Required:
TEST armor (YELLOW/BLACK) model: Inquisitor
Multiple Weapons
lots of Med-pens
Required:
Tonks
c2/m2
Cutty Red / Spawn Point
If you don't have either, don't worry! The more TESTies, the more we can TEST!
Goals:
Tonk vs. Tonk battle
Tonk Airdrop from Herc
Tonk Shenanigans
Getting Started:
At 19:45, we will gather in

TEST Discord -> TESTing

Makes sure you are at the required start location and in the main menu.
We will be launching at the start time; you will need to join after if you are late.
Further instructions will be given during the briefing.
Guilded Post:
Guilded Sign Up
Photo Credit
@wmk