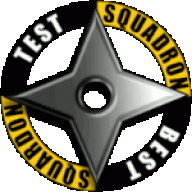 Aug 10, 2020
58
147
100
RSI Handle

We have some cargo that needs to be transported to a secure location.
Due to the volatile nature of the cargo, we are unable to transport it by ship.
We are will be using ground vehicles to transport the cargo. We have had reports of pirates in the area so we need to be sure to keep our heads on a swivel.
COMMANDING OFFICER:
ChromeNinja
Start Location:
Stanton System -> Hurston -> Everus Harbor
Start time:
19:45 UTC - 3:45pm EST
COMS:
TEST Discord -> Voice Chat -> TSMC - Briefing

Personal Equipment Required:
Test Armor: full yellow set / full black set

Inquisitor armor can be found at Grim Hex.

No weapon restrictions
Lots of medpens
Goals:
Practice vehicle convoy movement.
Defend against air and ground targets while in transit.
Getting Started:
At 19:45 we will gather in TEST Discord -> TSMC - Briefing
Makes sure you are at the required start location and in the main menu.
We will be launching at the start time, if you are late you will need to join after.
Further instructions will be given during the briefing.
Guilded Post:
Click ME to sign up!