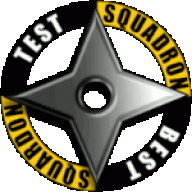 Captain
Staff member
Officer
Aug 10, 2020
80
227
200
RSI Handle

Grab your BEER and a vehicle and buckle up! We are doing a vehicle deathmatch!
COMMANDING OFFICER:
ChromeNinja
Start Location:
Stanton System -> Hurston -> Everus Harbor
Gathering time:
18:45 UTC - 1:45pm EST
Start time:
19:00 UTC - 3:00pm EST
COMS: TEST Guilded -> Main Hub -> Star Citizen Comms -> TSMC Training channel

Personal Equipment Required:
Test Armor: full yellow set / full black set

Inquisitor armor can be found at Grim Hex.

No weapon restrictions
Lots of medpens
Goals:
Eliminate the other team
If 3.13 is live we will also be TESTing out the MT.
Getting Started:
Guilded Post:
https://www.guilded.gg/TEST/groups/k2dX2b3K/channels/7e9b1450-a8c0-49e1-ba21-441ad4d0baa0/calendar/3728678