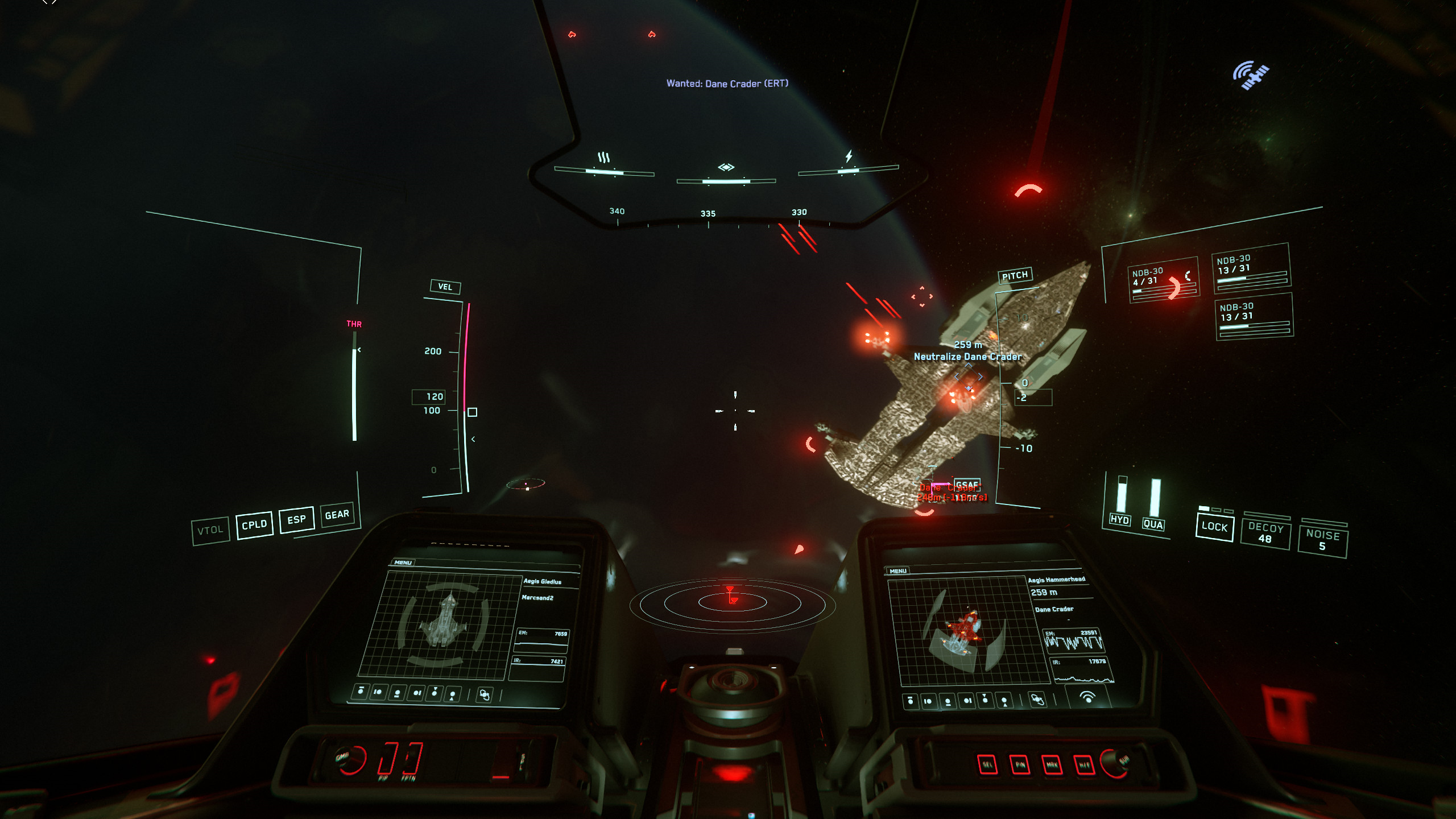 If you want to increase your rep, want to earn some extra cash or just want to have fun, then Bounty Hunting Service is something for you!!!
There you have a choice:
- Either you can select the Bounty Hunting missions, jump in, wait until your escort arrives and helps you out.
- Or your escort will select a higher bounty and will share it.
The procedure for not sharing Bounty Mission to maximize earning and rep is:
- The Bounty Hunt mission is accepted
- Location is announced
- The pilot with the mission marker jumps to the moon / planet, then to the mission marker and waits at a distance of 20 km
- The escort pilot uses the Bounty Hunting pilot as jump marker. ( Don't jump through the planet / moon
)
- When escort pilot arrives, engage
The procedure for atmo Bounty Missions without a jump marker is:
- Jump to an OM waypoint
- Try to find a ground jump marker which is in line with the Bounty Target. You may have to jump to different OM markers to find an appropriate ground jump marker
- Switch to freelook (tap z) or use head tracking
- Jump to the waypoint, use freelook or head tracking to keep an eye on your target
- When above or near to your target, power off to abort your jump
ERT earns double the rep of VHRT, 4 times the rep of HRT. Divided by 2 it still can earn you double the rep if your max bounty hunting missions are HRT. The certification missions you must accept yourself, but your escort may soften it up or even kill it for you, if it is a little bit too tough.
Best way to do this is 1 on 1. To accommodate this, fixed schedules can be hard to meet. Pilots offering their service can give some time slots. When you are looking for assistance, PM the pilots on discord and figure out a good day and time which works for both of you.
For standardization, we work with UTC times. You can use
https://www.worldtimebuddy.com/
to get your corresponding time offset.
If you want to help out, state your RSI handle and a few possible time slots. I will list them below.
This idea was cooked up by vahadar, lets make it successful and have fun.
Last edited: