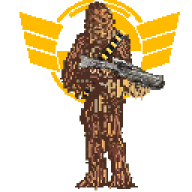 Sep 27, 2016
732
2,611
850
RSI Handle
If you really want to haul cargo, I think when you see what you get with the Hull C, you'll forget the Cat.

Did you know there was a statement about a year ago that these large, external cargo carrying ships can carry missile pods in place of cargo pods? I'm sure to work it would need to be in a position that on the outside of any particular rack, but the idea of the thing makes external carry MIGHTY. And the Hulls C was already an extremely cleverly designed bird with lots of benefits.

No, the Hull series probably cannot take a hit, but if it is locking on pirates at 20 km and acting in extreme prejudice, does that really matter?
Oh Yeah Hull is all about min / maxing cargo transport. While i like the idea of a Q-Ship, i'm not sure if CIG ever will implement that, for balancing reasons. Anyway gonna keep that Hull C.
Caterpillar should offer some versatility with its modules, has a tractor beam, an iconic look (to me) and a good "medium sized" cargo bay. Salvage and a med bay are very likely to come.
Nut sure about its current ability to land on planets, but thats something a Hull C can't do (Hull B should).