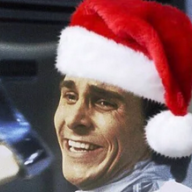 Oct 4, 2020
229
778
100
RSI Handle
Take the time to call loved ones, even if they are complete dicks.
Christmas is a mixed bag in my house, we remember my brother-in-law who suicided that day years ago. This year no different, except my Mother-in-law had a major heart attack two weeks back, and is in intensive care. She moved to a ward then had another heart attack, so back to intensive care. Two days back we met the surgeon to sort out an open heart bypass, today we met doctor's, cardiac head of department, nursing head, Father-in-law's medical professor bros and I think the hospital lawyer to discuss end of life, then talk about funeral arrangements with her. (Eating a bowl of broken glass would have been better if it means people won't die, but it's out of our hands). She want's to be buried in the clothes she wore to her youngest son's funeral.
This is after my Father-In-Law fell over and smacked his head on a table...he's 90. To top it off, the family dog was on his last legs, but picked up after a vet visit and expensive dog medication (always so expensive, he's lucky I love him, and right now my "this week (of all fucking weeks) out of the closet" niece is giving him a haircut) and my wife is now cancer free after two years of drug and chemo treatment, so that's a bonus, but now taking other drugs for the next five years. All isn't lost yet, there's a slim chance of of less life altering surgery for Mother-in-law, but she's a retired nurse married to a retired doctor, married 59 years and they both know what will most likely happen, and the rest of us know he'll soon follow after her if that happens, they both seem at peace with this.
This year also, i'll meet my one year old Grand Daughter for the first time, thanks Covid you suck, but i'll take a small slice of silver lining. I'll hand her back if she starts dribbling. Any rate, i'm ok I married a psychologist, but just wanted to say call your parents and siblings this year..mine are gone and my brother owes me a shit ton of cash...because he's a shit-lord scrub. (Brian..where's my money Brian? - Stewie Griffin).
Message complete....call your family even the shit-lord scrubs (especially if they owe you money haha).
Edit: Checked on the dog's haircut...still going on, looks like he started chemotherapy. Don't know if I can take him out in public, looking like a serial killer.
Update: The dog ended up with a mohawk. He's going to stare at a mirror wearing an old army jacket and ask himself..."you talkin' to me?....."

Last edited: