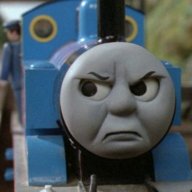 May 9, 2019
1,915
6,604
1,250
RSI Handle
I understand that art is in the eye of the beholder, and sometimes people have taken the time to explain to me what they saw and why they appreciated it, and other times these same critics have keyed in on things that explained why an enjoyed show was enjoyable. But other times try as I might I still can't see why it's praised (like Prince purple rain) and I wonder if in the end its some sort of emperor's new clothes and they are more about patting each other on the back for some message/artistic element/talent and not so much what is enjoyable.
Films are art and you hit the nail on the head there. It truly is a matter of beauty being in the eye of the beholder. I've watched my fair share of films that I think were great despite the general consensus and vice versa.
I acknowledge that critics can be subject to peer pressure and outside influence. Just like politicians who are harassed by lobbyists, successful critics face the pressure of being wined and dined by studios and networks. The Weinsteins were notorious for tactics like that especially during Awards season.
My view that Critical Drinker isn't a critic stands. He's a shock jock who fixates on certain issues for almost every film/show he reviews. I've watched a couple of his videos since yesterday and today and I notice he veers off to rant on his pet subjects within minutes. Like I said, I'm perfectly fine with that...free speech and all. I do believe that everyone has the right to a platform (no matter how obnoxious) as long as they're not advocating hate and/or violence. That said, I also believe that his abrasive style and antics make it difficult for people inside and outside of the industry to take him seriously. No producer will look at his videos and say "This guy knows his shit". There's a reason why he's limited to self shot YouTube videos and self published works. He actually reminds me of smug former film students I know who are now working in non-film related jobs or whatever. Again...with all due respect, I don't begrudge the guy for his success and his fanbase. He certainly hustles hard with all the merchandising lol.
Meanwhile someone like Chris Struckmann is an accredited member of the CCA (Critics Choice Association) and is currently in pre-production to direct a horror film that's backed by an actual production company.
Again this is all my personal opinion based on my personal views and my 12 years working in the industry (albeit as an onset film technician).
Last edited: