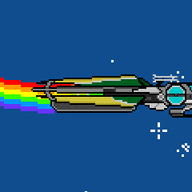 Spreader of Truth / Master of Hamsters
Staff member
Donor
Oct 30, 2013
2,341
5,145
2,930
RSI Handle
Hey all!
Today we made the sad decision to dissolve our RSI organization in order to fully migrate to Descent Underground. The lack of scary Goons in that universe makes our move well justified so that none of us wets our pants when a scary pirate ship comes and steal our valuable ship and cargo.
Thus we are announcing a massive RSI melt program where all members will be required to douse their wallets in Navy Strength rum and and proceed to set it on fire with gunpowder. This will finally free our wallets from the purgatory that is the RSI Feature Crawl TM and a final resting place in the depths of the underground.
Never wanted concierge service anyway.​
If you are interested in being a true TESTie and not risk becoming a heretic to be purged by
@Frisbeerocker
and
@Barthanes
please consider visiting the following button to make Mr. Peterson's dreams (of drinking margaritas on the beaches of Tajiti) a reality.
​
Yours Sincerely,
TEST Leadership in Exile