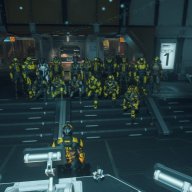 Jun 19, 2020
6
24
100
RSI Handle
So thought I would introduce myself.

I am Amy aka Rogue, im 30 and from the UK.

I am new to the verse. Have just purchased duel joysticks and also head tracking. Going for the fullworks.

Have been playing for about 3 weeks now and have just done my first mining event today with the Sqn.

Always looking to play with others as I find myself boring company.

I try to get online alot but as I am an Army medic in real life I dont really have a set schedule.

Safe travels.