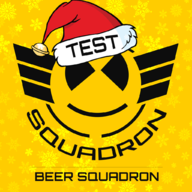 Feb 22, 2016
2,500
8,819
2,860
RSI Handle
Small test version done, bit a disaster but mostly in spots you won't really notice.
I did a quick paintjob, well, it took like 5+ hours cos no access to my airbrush and watching a season of anime in the bg does make progress a tiny bit slower, but I really enjoyed doing it instead of my usual clicking away at some dumb game. TBH I'm really happy with the result, it's tiny and cute even.
Meanwhile, the big version finished printing. I'll fish it out of the tank (lul) and let it dry till tomorrow, then check for damages. I'm sure it didn't come out clean, seen a couple of layer shifts and tearing on some supports.
Btw I have found a very decently remodeled version on cults3d. Someone's put in the work. It looks a bit weird when it comes to proportions, but that might just be the pictures. It is being sold for around 9 bucks though, not sure how that part works but I guess he did a lot of work to it so I don't mind. How long CIG will tolerate it is an entirely other matter though...