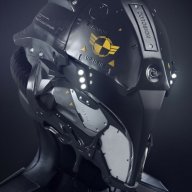 Dec 10, 2021
63
173
100
RSI Handle
I'd say the most interesting thing about the verse is the natural (usually predatory) interaction between players in the asteroids surrounding Yela.

Been doing a lot of bounty missions and I'll run into a prospector or mole every once in a great while.

They look at me like I'm a saint when I don't attack them.
And I have no doubt I am one of those people. I've heard a story of a Prospector being in the immediate vicinity of a location where a BH contract showed up at. He watched it for like 15 minutes and flew closer bit by bit. Swore that based on how long it took and how many missiles were being fired it had to be a high level bounty at least. But what he saw was pretty intense. Keeps me away from Yela enough... lol